Bee Lewis joined us in mid-May 2023 as the General Manager of The George, helping to make preparations to reopen the pub, including recruiting staff. Since our official re-opening on 26th May, along with her team, Bee has been welcoming customers back inside our community pub and organising lots of pub and community events. We asked Bee a few searching questions to help you get to know her:-
Welcome to Bethersden and The George, Bee! Please introduce yourself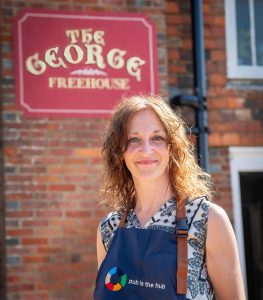 Hello, I'm Bee and I'm in the privileged position of being the GM for The George, which I now call home, with my other half, Craig.
I'm an '80s baby, just into my 4th decade of life, with a West Country twang, so apologies now as I do call everyone "my lovely". Hospitality has been part of my career history since I was a teenager, returning to it after leaving my career as a biomedical scientist. I have moved up from Sussex, where I managed a 17th century pub.
How did you first get involved in hospitality and pubs?
I think like most young people growing up I worked in several bars and pubs to top up my wage, as I had a job as a veterinary nurse, which I definitely did for the love of the job rather than for the money. So, working in a pub has always been part of me and I have always felt at home behind a bar. I enjoy the chat and interaction with the customers. In a world where everything is digital and automated, it's lovely to have engagement and to have a friendly face to greet you, and that's what I want everyone to feel when they walk through the door at The George. 
In what ways have your past roles helped you in this career?
I've had a wide range of jobs in many different sectors, but what I've always tried to do is make every job an opportunity to learn and develop. Whether that be from the people that I've worked with, the customers or patients or the tasks put in front of me. Life is a blessing and I think what I have learnt most is to grasp everything you have in front of you and make the most of it. And I think that has made me an enthusiastic, positive and dedicated person. And I look forward to bringing my skills to the George to help ensure its success and secure its future within the village. 
What are you most looking forward to about coming to live in the village and taking over at The George? 
Even before I came to my interview, I could tell how much The George meant to everyone and that was very influential in my decision to apply for the position. This has been reinforced by the warm welcome I've had from the residents that I have already met. I love the fact that the village has pulled together to create this fantastic idea of a community pub. Having been in a small village where the pub has closed, I know the impact of that loss. And this is what I am most looking forward to being part of: giving back the heart and soul to the village with the reopening of The George. 
Running a pub is pretty full on, but when you're not working what do you like to do to relax?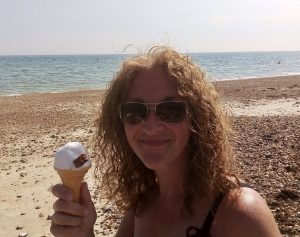 I am not good at being idle, so even on my days off. I like to be busy, so you might see me running through the village, or heading down to the beach for a swim or a surf, exploring the countryside on foot or by two or four wheels. I'm also quite a creative person and learned the art of traditional stained-glass work in my '20s, so I'm looking forward to seeing what inspiration I can find in this beautiful county I'm now lucky enough to call home.
So that's me in a nutshell! I really look forward to meeting you all very soon and making The George your local once again. Until then, look after yourselves. Bee x