November 2023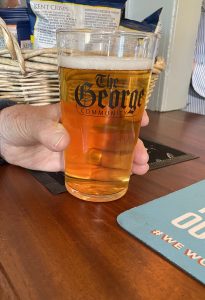 We are excited to announce that The George has been selected as a finalist in the CAMRA Pub Saving Awards 2023. We are one of just ten pubs from across the country to have reached the last stage of this prestigious annual award from an original field of 40. The results are due to be announced in mid-December so we are keeping our fingers crossed but, regardless of the final outcome, it is an honour for the pub and the whole Save The George campaign to have been recognised in this way.
October 2023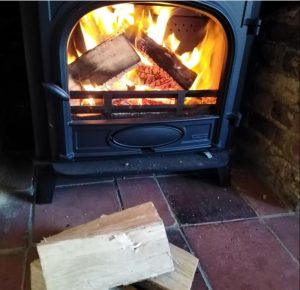 With the change of the month, came the change of the seasons and a distinct Autumnal nip in the air, so it was time to light the George's new log burners – and they certainly warmed things up a treat!
We have also updated our opening hours – thank you for everyone's feedback over the last few months. Click here to see the new times.
Halloween fun!
Bee and the team organised a spook-tacular Halloween Week of fun and games for all the family to coincide with half term, including:-
a colouring competition
pumpkin carving
Trick or Treat Village Hunt for the children, followed by a BBQ
Halloween Party (fancy dress encouraged)

Improve your sketching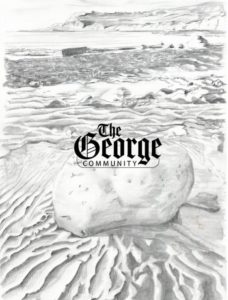 Local artist Christine Hopwood began a series of classes at the George for anyone wanting to improve their drawing skills or give it a go for the first time. Suitable for all levels with any soft drawing medium, the classes cost £15 a session with a tea/coffee at the break. Aspiring sketchers can bring their own materials or use those provided for a small extra charge.
August & September 2023
What a busy two months its been at the George: here's a round-up of the highlights:-
Macmillan Coffee Morning (28th September)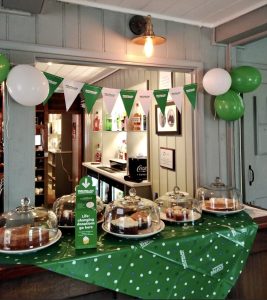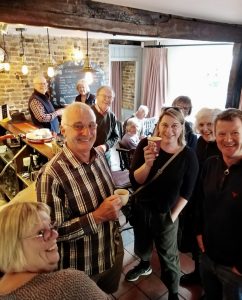 Our first Macmillan Coffee Morning as the community pub was a great success. Held in conjunction with Rev Sue Rose and St Margarets, the pub was a-buzz with villagers. Many thanks go everyone who attended and gave so generously; to our village home bakers for donating delicious cakes and to the Kent & Sussex Tea and Coffee Company who providing the tea and coffee free of charge so that every penny raised could go to Macmillan. We raised a fantastic just over £700 for this worthwhile cause.
George Beer Festival (22nd – 24th September)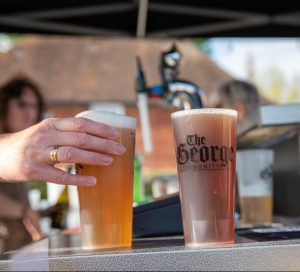 We held our second George Beer Festival from Friday 22nd to Sunday 24th September. This coincided with some late Summer warmth which was a great bonus! Cask ales included: Kent Golding Bitter, Dark Star Hophead, Canterbury Ales 'Wife of Bath', Long Man Pure Bumble and St Austel Proper Job. There was food from Bun Buddies (Saturday) and a BBQ (Sunday), live music from Nick Eve (Friday), Goodnight Lois (Saturday) and Roger Kelly (Sunday).
Cafe Gallery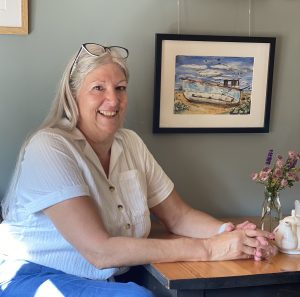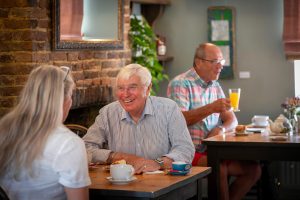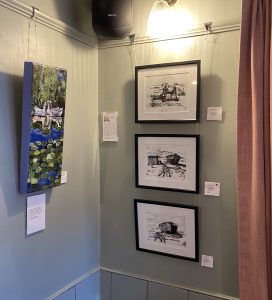 We launched our Cafe Gallery in the Saloon dining area, celebrating the work and talent of local artists and creators. All the pieces are for sale. Works will be displayed for a maximum of six weeks but replaced sooner if they are sold. Pictured is Bethersden-based artist Christine Hopwood with one of her Dungeness prints. Artists interested in being featured should contact Bee at the George.
Pool Table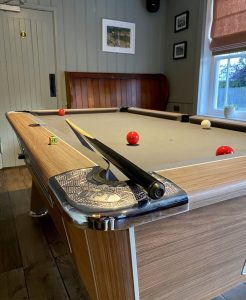 The new pool table arrived in the public bar and, once spotlights had been installed, it was ready to use.
A game costs £1, via coins into the table. If you need £1 coins you can get change at the bar via your payment card/contactless device (but not as a cashback service). Players must be over 18 and, in accordance with the George operating a Challenge 25 policy, if you look under 25 (lucky you!) you will be asked for ID in order to play.
Please note that the pool table is not available to use during Café opening times in the week and when we have events such as the quiz, music bingo, live music etc.
And that's not all ….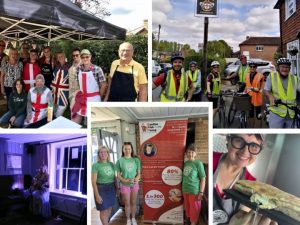 (Clockwise from top left)
We joined forces with The Bethersden Dragons to host the 'George and Dragons' family event on August Bank Holiday Monday, helping to raise money for St Margaret's Church
A group of happy riders enjoyed taking part in our first 'social cycle' around the local country lanes, guided by Glenn of Wider Experience
We had three new guest food trucks serving up tasty dishes to customers, including Lambtastic, Bun Buddies and Vabbe (pictured) with their authentic Italian homecooked recipies
We held a National Cupcake Day Bake Off competition in aid of Team Ben Hammond
Live music returned to The George with Kelly Bourne (pictured), Charlotte Eade, Noteworthy and acapella group Willie The Wales
July 2023
Delicious food from Bauhemian Ltd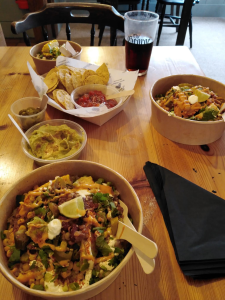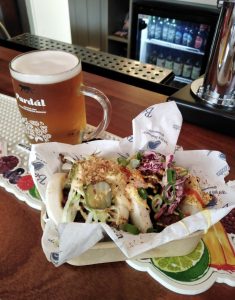 We've recently teamed up with local speciality food service Bauhemian Ltd to provide regular food offerings at the George. Steve, Bauhemian's founder, has already treated us his excellent bau buns, curries and Mexican food to rave reviews. Over the next month, he'll be bringing Italian, Greek, Caribean, Thai and Chinese dishes to the George. For exact dates, check out our August Events Calendar.
Working from home? Why not try working from The George instead!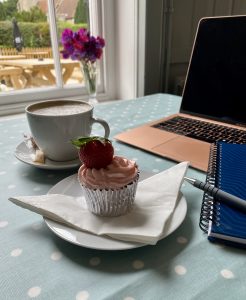 With fabulous coffee, tea (or hot chocolate) and homemade cake from our wonderful team of home bakers on offer – plus access to superfast broadband – what's not to like?
Bring your laptop and come and #WFTG rather than just #WFH!
The George Cafe is open from 10am – 4pm Wednesday to Saturday.
Quiz Time!
The George Pub Quiz is back on home turf!  Join the fun on the second Wednesday of every month. Price: £10 for a team of 4 people with a cash prize for the winning team and The George will make a donation to a local charity. If you would like to take part, please message Bee and the team at: thegeorgebethersden@gmail.com or call the George on: 07354 849122.
June 2023
The George Cafe is open!
After a couple of test days and staff training, we officially opened The George Cafe at 10am on Friday 23 June, operating Wednesday to Saturday from 10am to 4pm in addition to pub opening times (which have also be updated – see above)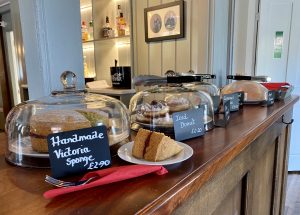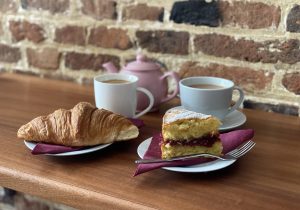 The cafe offers Bloss coffee, Pluckley tea, hot chocolate, croissants, pastries and delicious cakes provided by some of Bethersden's home bakers. Catch up with friends, take a break or even bring your lap top and take advantage of our super-fast WiFi (as long as you order something!) – not so much #WFH as #WFTG! We are family-friendly, dog-friendly and cycle-friendly too so an ideal stop off point. But for those too pressed for time, we'll serve your coffee or tea 'to go' in one of our biodegradable cups, perhaps along with a wrapped muffin or cookie.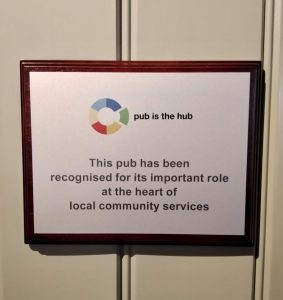 We are very grateful to Pub is the Hub, a not-for-profit organisation dedicated to improving community services and activities, for a grant of £3K which we put towards the purchase of our café coffee machine and a dishwasher.
Our 'Fake or Fortune' moment
You know the moment on the Antiques Roadshow when an expert reveals that an item brought along is worth a fortune …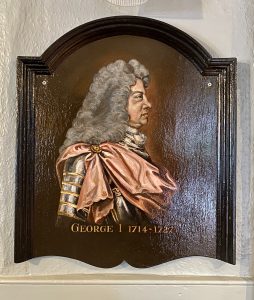 When our volunteer art restorer Diana Fosbury took a look at the painting of George I which had hung for many years in a corner of the pub's dining room, she immediately noticed that it appeared to be almost identical to a famous painting by Sir Godfrey Kneller (circa 1714) which hangs in the National Portrait Gallery in London.
After an anxious few weeks waiting for an expert assessment, it was pronounced to be a later copy. However, there's no doubt it is a beautiful painting and precious to The George, so, following sympathetic restoration by Diana, it has been rehung in the saloon bar in a new, more prominent position where it can be admired for years to come.
May 2023
Sunday Funday – 28th May
The sun stayed out right through our first weekend and on Sunday we held a BBQ with free children's entertainment from the amazing Captain Fantastic!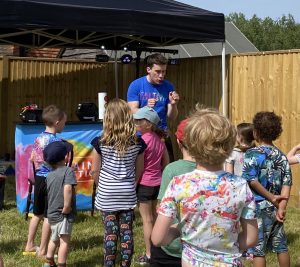 We're Open! Friday 26th May
Well, we did it. The George pub finally started serving the community again at 1pm today.
And what a first day it was too – starting with the blessing of the pub by Rev Sue Rose and then the pulling of the first pint for our raffle winner, local Bethersden resident Terry Price by Damian Green MP – all in front of a bank of TV cameras and reporters from BBC South East, ITV Meridian, KMTV and BBC Radio Kent who were roving the county on Kent Day.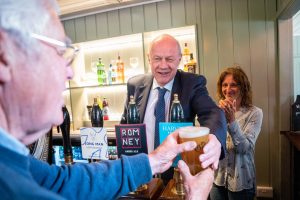 Damian Green MP fulls the first pint. Photo by Greg Allen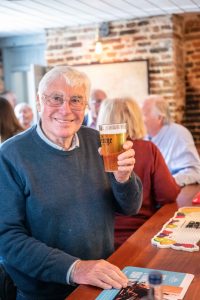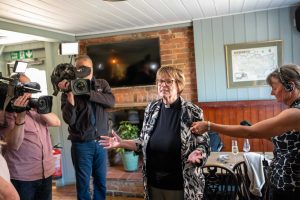 Our General Manager Bee and the new bar team have been working hard ever since as the weather has also been on our side, helping to fill the beer garden as well as the newly refurbished pub.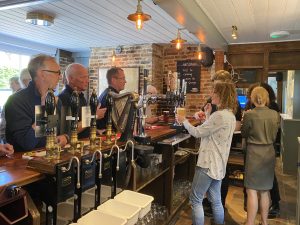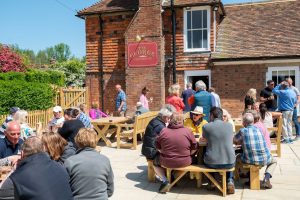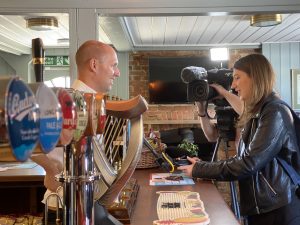 OPENING ANNOUNCEMENT!
This is the news that you've all been waiting for: we plan to officially re-open the doors of The George, Bethersden, at 1pm on Friday 26th May 2023!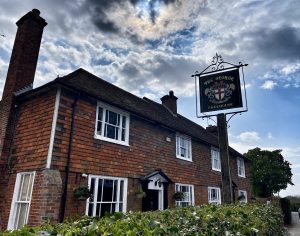 The final stages of internal redecoration and fitting out are taking place so, subject to all final checks and approvals being received, we will be opening our doors as a community pub at 1pm on the 26th of May in time for the Bank Holiday.
As we indicated at the start of our journey, we will be reopening as a 'wet pub' only. The kitchen needs separate substantial work, which we hope to get underway shortly, with a view to starting a simple café service at the end of June.
'First Pint' raffle!
The milestone moment of serving the first pint in The George as a community pub is something we've been dreaming about for many months. And we've decided that the best way to bestow the honour of receiving that pint is to hold a raffle so that everyone has the chance at taking a place in history. This will be recorded on camera – and, we hope, by invited media – so please bear that in mind if you wish to take part. Also please note that you will need to be available at 1pm on 26th May.
Tickets cost just £2.50 each, with a strip of 5 tickets for £10. All proceeds go towards the refurbishment of the George kitchen.
Raffle tickets will be available from Marchants, the Post Office General Store and Vibez Hair & Beauty in Bethersden from Tuesday 16th May, but you can also take part by sending  your name and contact telephone number by email to: members@georgecommunity.com We'll then send you a payment link and put your name in the draw. The winner will be notified by telephone on Thursday 25th May.
Bar & BBQ for Bethersden's Coronation Big Lunch, Sunday 7th May 2023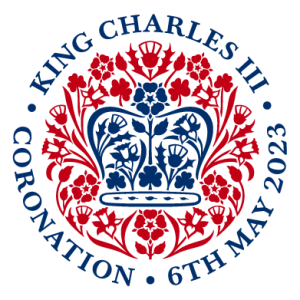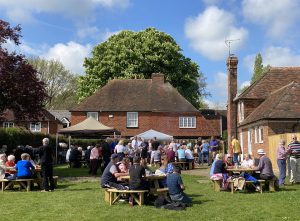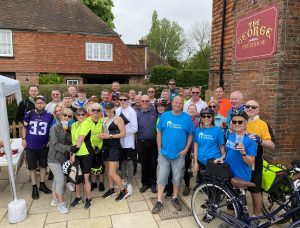 Our outdoor bar and BBQ returned on Sunday 7th May to provide refreshments for the village street party celebrating the King's Coronation in bright sunshine. We provided everything to celebrate this historic occasion, including Chapel Down Sparkling Bacchus and 'Coronation Cup' PIMMS. Delicious Burgers and Hot Dogs from Marchants were also a hot ticket and sold out quickly. We were also the first stop for a team of 30+ cyclists undertaking a cycling marathon in aid of Pilgrims Hospices. What a great day!
April 2023
22nd & 23rd April: St George's Day Beer Festival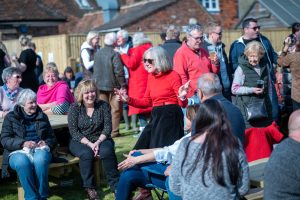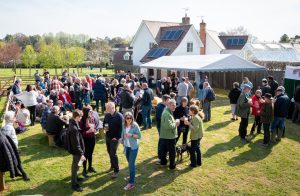 Well, we did it! Despite challenging weather, particularly on Sunday, and a slightly muddy garden, our first beer festival, as owners of The George, was a great success. Some 3-400 people attended the two-day event and a great time was had by all.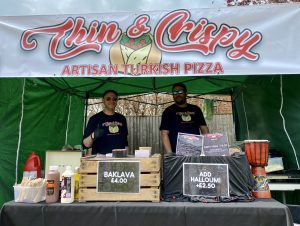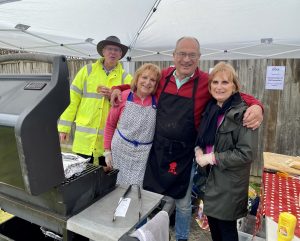 There were delicious food offerings on both days: fresh artisan Turkish pizzas and loaded fries on the Saturday and excellent burgers and hot dogs, courtesy of Bethersden's own butchers Marchants, served up by our Chairman and his family team on Sunday.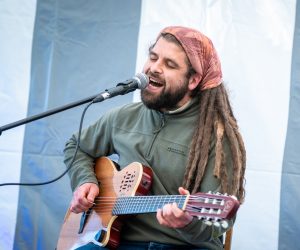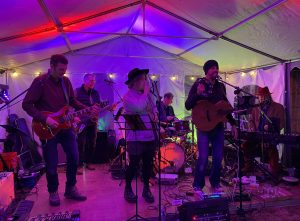 In fine George beer festival tradition, there was also plenty of music to enjoy too: songs from our very own Roger Kelly, acoustic Saturday afternoon vibes from Thomas Abrahams, a rocking set from Men Without Hens on Saturday evening, and chilled Sunday sounds from Ashford Folk.
Go to our Images page for more photos from the event.
Thursday 20th April: The pub sign is up!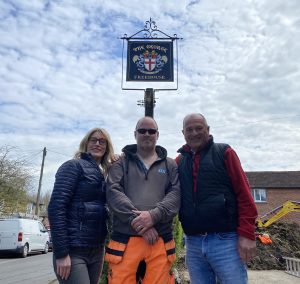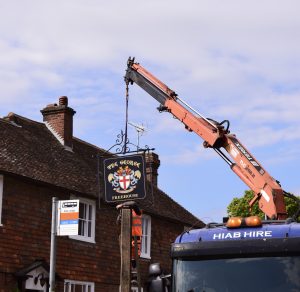 Perfect timing as we prepare to welcome everyone back to the pub garden for our first Beer Festival this weekend.
And of course, the return of our pub sign wouldn't have been possible without the expertise and dedication of two people: Andy Jordan – pictured between a delighted Jo Brannan and Robin Draper – who not only installed the sign this morning but restored its damaged metal hanging frame and made the new post on which it now sits, plus artist Diana Fosbery who restored the painted sign to its striking full-colour glory. A massive 'thank you' to them both.
ANNOUNCEMENT: St George's Beer Festival returns!
Sat 22nd April (12noon-10pm) and Sun 23rd April (12noon-6pm)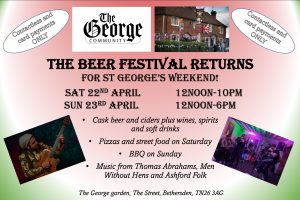 Drum roll….. We are delighted to announce the dates for our first beer festival since we took over the George for the community. The long wait is over so make a date to join us in the pub garden over the St George's Day weekend. There will of course be a range of cask ales, cider, wines, spirits and soft drinks on sale with different food offerings on the two days. In true George tradition, we'll also have music in the marquee during the day  – Thomas Abrahams on Saturday from 3-5pm and Ashford Folk from 2-4pm on Sunday – and on Saturday evening we'll be joined by Men Without Hens playing sets from 7-9-pm. There will also be some children's entertainment on Sunday afternoon from Captain Fantastic.
As with all our pop-up events, we will be operating with card/contactless payments ONLY.  This will be a completely outdoor event, as the pub building is not yet ready to open, so let's hope the weather is on our side! We can't wait to welcome everyone back home.
Happy Easter!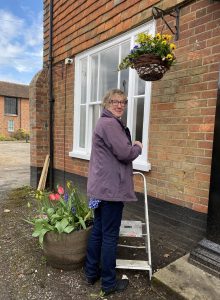 Spring has sprung and work continues a-pace at the George. Thank you to Annie Smith for refreshing our lovely hanging baskets in time for the Easter weekend. They look even better now the ground floor windows and doors have been repainted.
March 2023
A sign of things to come…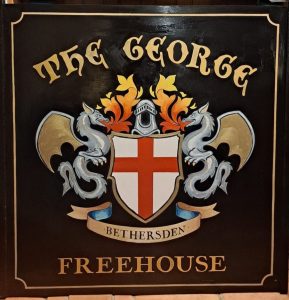 If you've been wondering what  happened to The George sign that used to hang outside the pub, we're delighted to report that it has been recovered and will soon reappear! As you can see from the photo, it has now been beautifully restored. Many thanks to the talented fine artist Diana Fosbery who did this for free. Our thanks also go to Andy Jordan who has restored the sign's metal frame and is supplying a new post too. We hope the sign will go up in the coming weeks.
Progress report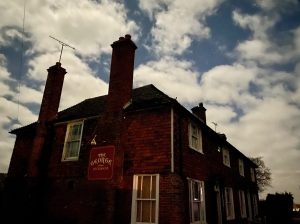 It may not seem that much has been happening at the pub in the last few weeks but a lot has been going on behind closed doors and pulled curtains – from gaining updated structural opinions and quotes from contractors to chasing up grants and applying for new ones (such as for roof insulation and cafe equipment). Not least has been the task of clearing the pub to prepare for key repairs to begin. We've also been preparing our application for the new alcohol licence, which will be publicised shortly – a fairly essential action for re-opening!
(Photo: The George by moonlight)
February 2023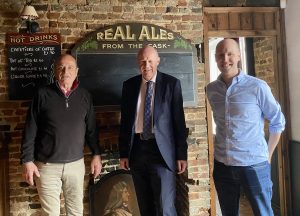 Our MP, Damian Green, continues to be supportive and interested in our plans. He came to The George on Friday 24 February to meet with members of the new Management Team to discuss progress and offer further helpful advice to us. Seen here in the saloon bar with Chair Robin Draper and Vice Chair & Commercial Manager Alex Withington.
January 2023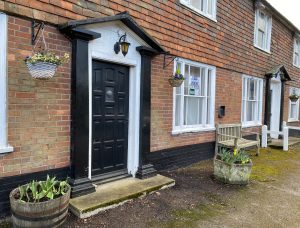 We have the keys! We completed on the purchase of the pub on 31st January so now the real work begins to prepare the pub for reopening. A big thank you to Annie Smith for adding beautiful hanging baskets and replanting the tubs with Spring bulbs in front of the pub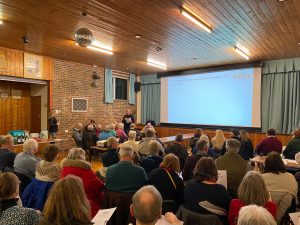 Thank you to all the members who came to our very first Annual Members Meeting on Friday 27th January in Bethersden Village Hall.  The whole of the existing committee was re-elected and we got to welcome Alison Miles and Sam Buckman on to the team.
December 2022
We've had some great coverage in the local and national media for our successful share offer and fundraising to buy the George.  Thanks to Alison Miles for coordinating all of this.  Following are a couple of articles:
https://www.bbc.co.uk/news/uk-england-kent-64031652
https://www.kentonline.co.uk/ashford/news/historic-pub-saved-after-villagers-raise-300k-279119/
A great weekend for the people of Bethersden as the campaign to save the George pub meets its target of raising £300K. Re-opening time is coming closer! pic.twitter.com/PsqbVdwgkl

— Damian Green MP (@DamianGreen) December 19, 2022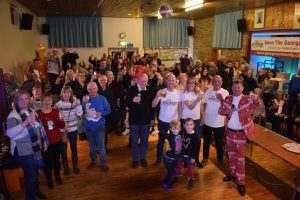 Thank you to everyone who came to our Beer & Carols evening at The Village Hall in Bethersden on Saturday 17th December 2022.  It was great to have Damian Green and let you all know that we have reached our target of £300,000 in shares.  We still have some way to go to secure grants for the refurbishment so we have extended the share offer until the 8th January 2023.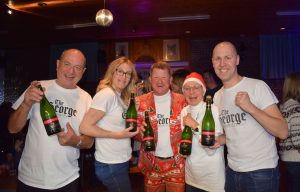 The George Community team celebrating with the generous donation of Chapel Down Sparkling Bacchus wine.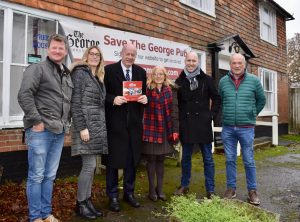 We met with our MP Damian Green on Thursday 1st December 2022 and thanked him for all of his help.  He is super excited to come and join us for a pint as soon as the pub is open.
Please help us meet our crowdfund target of £10,000
https://www.crowdfunder.co.uk/p/the-george-community-crowdfund
November 2022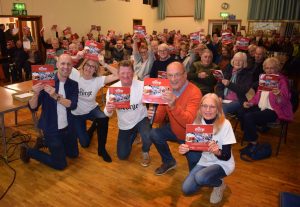 Thank you for everyone who turned up for our share launch meeting on Sunday 20th November 2022.  We now need your investments to get us up to the minimum £300k required for us to purchase the pub.  Please look at the share offer information on this website.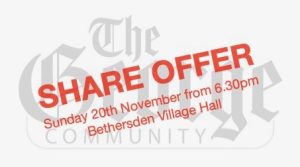 Please join us on Sunday 20th November 2022 from 6.30pm in the Village Hall.  We hope you are as excited as we are about having our historic village pub back open.  We now need your money and help to make this happen.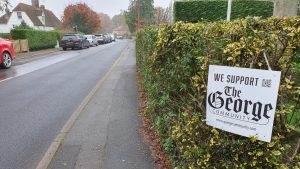 You will see these signs around our beautiful village.  For us to buy the pub we will need your support.  Please come to the share offer on Sunday 20th November 2022 in Bethersden Village Hall from 6.30pm.
October 2022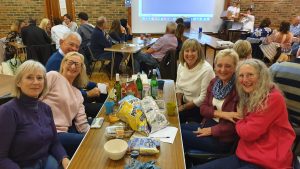 The winning team at our quiz held in the Village Hall on the 21st October 2022.  Fun was had by all.
September 2022
The fabulous Thomas Abrahams entertains us all at the successful George Community Event on the 30th September 2022 in the Village Hall.
Summer 2022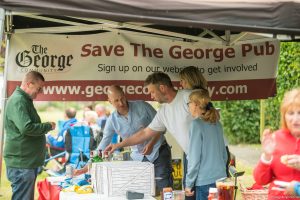 The George Community team ran a bar at the Jubilee Barn Dance on the 4th June 2022 and at the Jubilee lunch in the George Field on the 5th June 2022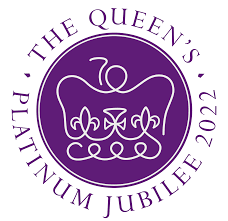 The George Community Team will be running a bar at the Barn Dance event in the Village Hall on Saturday evening 4th June 2022 and on the George Field on Sunday 5th June 2022 from midday to 6pm.  We have cask ale from Romney and Musket, both fabulous local beer makers, as well as Pimms, wine, cider and soft drinks.  Looking forward to seeing you all there.
Spring 2022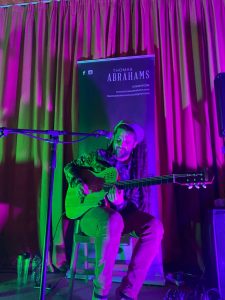 Here is Thomas Abrahams doing his thing on the stage at the Village Hall 23rd April 2022.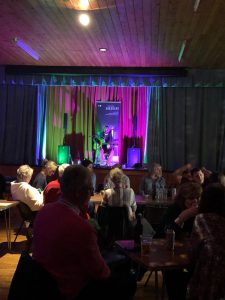 The George Event pop up pub on the 23rd April 2022 was a huge success and enjoyed by all.  Thomas Abrahams, our musician for the night, was amazing.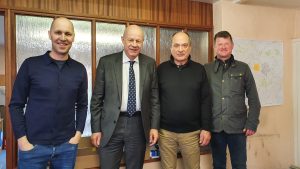 Damian Green, our local MP, continues to help us and give us advice.  This is us at his Constituency Office in Bethersden on the 18th February 2022.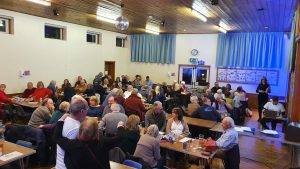 The George Community Quiz was a sell out on the 4th February 2022.  Thank you all for coming.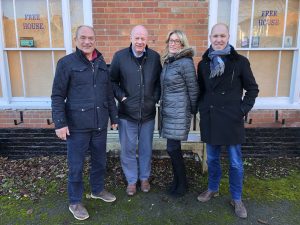 Damian Green, our local MP, continues to provide us with his valuable support.  The team met him outside on Friday 7th January 2022.
2021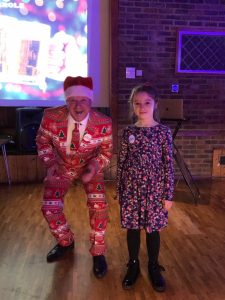 COVID scared most people off The George Community Beer & Carols event on Friday 17th December 2021.  Those who came had huge fun.  The kids particularly enjoyed sliding across the Village Hall floor on bean bags.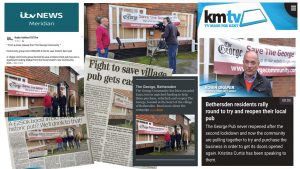 The George Community in the media: In the run up to the launch of our share offer, our media campaign is gathering pace, with coverage appearing on TV (ITV Meridian and KMTV), in the press (Kentish Express and The Kent & Sussex Courier) and across social media, from Next Door and In Your Area to My Tenterden and Radio Ashford.
We need some money to get the Share Offer issued.  Please give using the following website:
https://www.crowdfunder.co.uk/the-george-community—startup-fund
Great News: Share Match Grant approved in the budget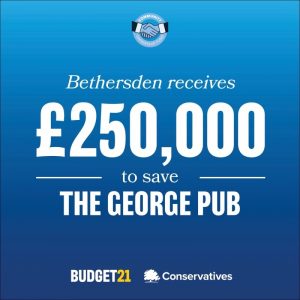 Pop Up Event no. 3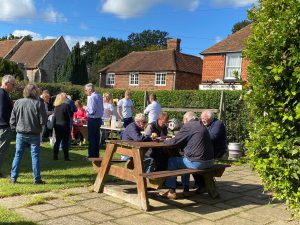 Thank you to everyone who turned up to our third event in the pub garden on Sunday 3rd October 2021.  The weather was kind for the most part and fun was had by all.  Look at our images page for more photos.
Save The George Sign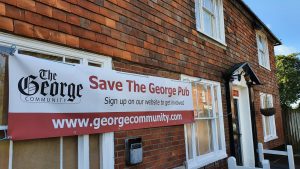 Alex and Robin installed our 'Save The George Pub' sign on Wednesday 29th September 2021.
Pop Up Event no. 2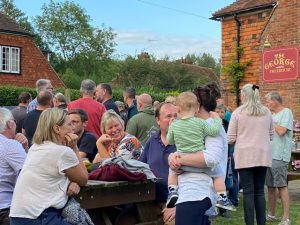 Our second Pop Up event was held in the pub garden on Friday 27th August 2021.  All three barrels of beer (Romney Marshmellow, Romney Best and Old Dairy Red Top) were finished as were several bottles of wine and other beverages.  We are already planning our next event which we will let you know about soon.
Damian Green – our MP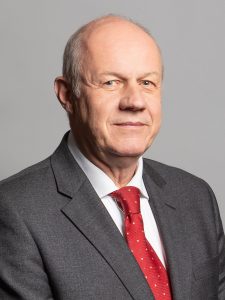 Thank you so much to our local MP for supporting us with our applications for funding.  Below is the email he sent to us:
To whom it may concern.
I am writing to express my strong support for the proposal by The George Community Ltd to purchase, refurbish and upgrade The George pub in Bethersden. The pub will be run for the benefit of the local community.
The George is close to my office in the constituency so I know well how important it is to the community. Sadly the pub closed in 2020 and the local community is keen to see it re-open, as can be seen from the level of financial support the proposal has already received. I very much hope this bid for support is  successful.
Yours sincerely,
Damian Green.
The George Community Limited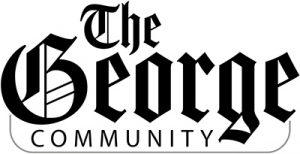 The George Community Ltd is now a registered Community Benefit Society – registration number 8690.
Pop Up Event no. 1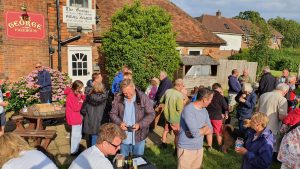 Our first hugely successful pop up event was held on 30th July 2021.  Because of the success we organised another event in the pub garden on Friday 27th August 2021.  We also served up a delicious barrel of Romney Marsh Mellow at the Bethersden Summer Party on Friday 13th August.
The Plunkett Fountain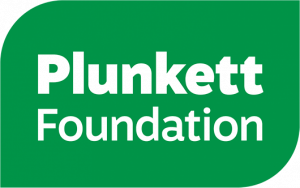 On 11th July 2021, with the help of the Plunkett Foundation, we applied to the FCA to form the Community Benefit Society called 'The George Community Limited'. This became a legal entity on 2nd August 2021 and a bank account has been applied for.
The George Community Meeting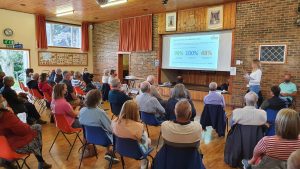 We had an open meeting in the Village Hall on Saturday 10th July 2021 which was well attended and also had very positive feedback.